Green Hues a Popular Option to Give Kitchens Natural Feel
Green has become a popular color in kitchens. Appliance manufacturers are reporting an increase in demand for new, custom-colored appliances in green, Forbes.com reports. Also, many designers are calling cabinets that have been painted green a rising trend to watch in 2021, whether the hue is displayed on all the surrounding cabinets or reserved for the kitchen island.
The appliances aren't quite matching the likes of the 1970s avocado-green craze, however. Many shades of green are trending this time around.
"Color was one of the hottest trends we saw among the products launched at KBIS this year, and blues and greens were high on everyone's wish list, with shades ranging from bold emerald green and deep forest hues to a softer mint green and blended shades of green/blue, or a touch of green added to the ever-popular gray," Janice Costa, president and founder of KB Designers Network, told Forbes.com.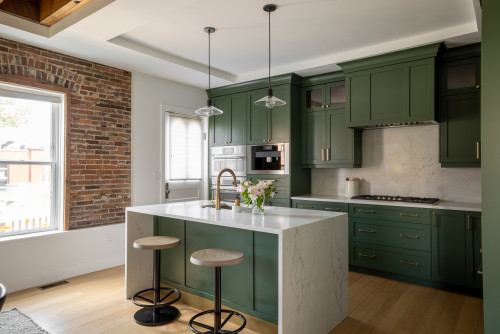 Against white cabinetry, colored appliances can pop, designers say. Also, green offers that nod to nature, another popular trend in home design nowadays.
A dark green kitchen is one of the favorites of London-based interior designer Beata Heuman. "The eye can actually decipher more shades of green than any other color, which gives it great depth," Heuman told Architectural Digest. "So if you want to do something bold, it's a relatively safe choice."
Many appliance manufacturers are offering more options to fit the eclectic tastes of homeowners with a wider variety of color options. Green is available as an option for most of those offerings due to its rising popularity.
For home staging and design tips: Visit the Styled, Staged & Sold blog
"The color green represents tranquility, which we all wish to achieve in our homes, especially these days," Hillary Frei, president of Big Chill Appliances, told Forbes.com. "The kitchen, one of the most popular spaces in the home and most trafficked, can often be a jumping-off point for establishing an ambiance or leading aesthetic, making color choice paramount. By using green, whether on appliances, cabinets, or elsewhere, the tone is set toward tranquility and a calm, nature-oriented space."
Recent Stories in This Section